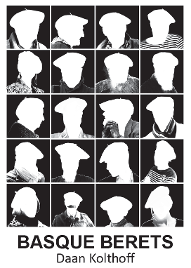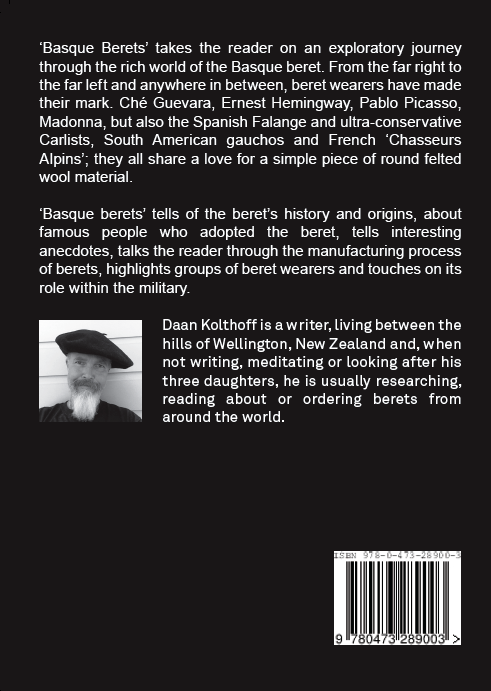 Press Release
Wellington author and the world's most specialized bonetaire (beret seller) has just released his new book Basque Berets.
Basque Berets takes the reader on an exploratory journey through the rich world of the Basque beret. From the far right to the far left and anywhere in between, beret wearers have made their mark. Ché Guevara, Ernest Hemingway, Pablo Picasso, Rita Angus, Jon Trimmer, Madonna, but also the Spanish Falange and ultra-conservative Carlists, South American gauchos and French 'Chasseurs Alpins'; they all share a love for a simple piece of round felted wool material.
Basque Berets tells of the beret's history and origins, about famous people who adopted the beret, tells interesting anecdotes, talks the reader through the manufacturing process of berets, highlights groups of beret wearers and touches on its role within the military.
Basque Berets is available through www.BasqueBerets.net, the South Pacific Berets web site www.SouthPacificBerets.com and can be ordered from specialized bookshops.
About the author:
Daan Kolthoff is a writer, living between the hills of Wellington and, when not writing, meditating or looking after his three daughters, he is usually researching, reading about or ordering berets from around the world.
Previous books by Daan Kolthoff are Sals lot and Hauroko, het geluid van de wind, both in Dutch (the latter presently being translated into English) and publications on refugees, Chechnya and a number of short stories.
Daan Kolthoff and South Pacific Berets have featured in the NZ media:
http://www.radionz.co.nz/national/programmes/afternoons/audio/2072692/the-beret-project
http://www.stuff.co.nz/business/industries/5756415/Best-berets-outside-of-France
http://www.stuff.co.nz/dominion-post/news/local-papers/the-wellingtonian/2869556/Hats-off-to-a-beret-fan
http://www.stuff.co.nz/marlborough-express/news/3306852/Head-wear
Who would have thought that there was such an interesting history and world behind the beret? In fact so much so that you can fill a book and still feel like more.